Poetry stations
All around town · Wed 30. oct
All around town · Thu 31. oct
All around town · Fri 1. nov
All around town · Sat 2. nov
All around town · Sun 3. nov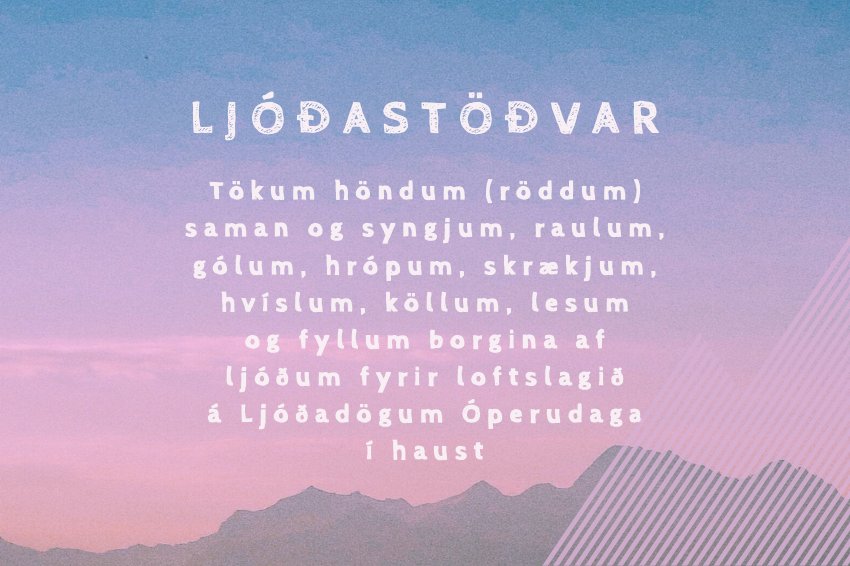 During the festival, from 30th October – 3rd November, we will open up Poetry Stations where everyone is welcome to participate and read/sing/play their favourite poem/ode for the climate.

These Poetry Station will be placed at six locations:


Grófin Culture House,
Gerðuberg Culture House
Reykjavík City Hall
Mjódd - Shopping Mall
Harpa Concert Hall
Kjarvalstaðir, Reykjavík Art Museum
Opening hours: 12:00 -16:00, with thse exceptions: 
Harpa: only open on the 2nd and 3rd of November
Reykjavík City Hall Poetry station will close at 15:00 on the 1st of November.
Gerðuberg Culture House: is open from 13:00 - 16:00 on the 2nd and 3rd of November
Mjóddin is closed on Sundays

During the opening hours of the Poetry Stations, participants can sing, play and perform poems for the climate. 


Let's sing, shout, whistle, whisper, play, read and fill the city with odes for the climate during Reykjavík Opera Days